Scam received in my emails 30/10/2023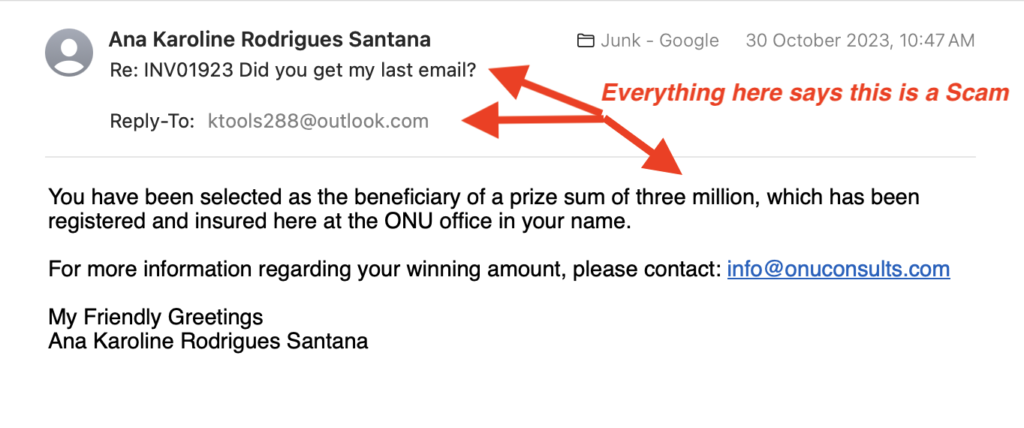 ---
Scam received 23/10/2023
---
Commonwealth-scam
Scam was received 12/10/2023 – This one is rather basic!
---
Commonwealth Bank email scam – detected 9th September 2023
This is the email Bruce received 09/09/2023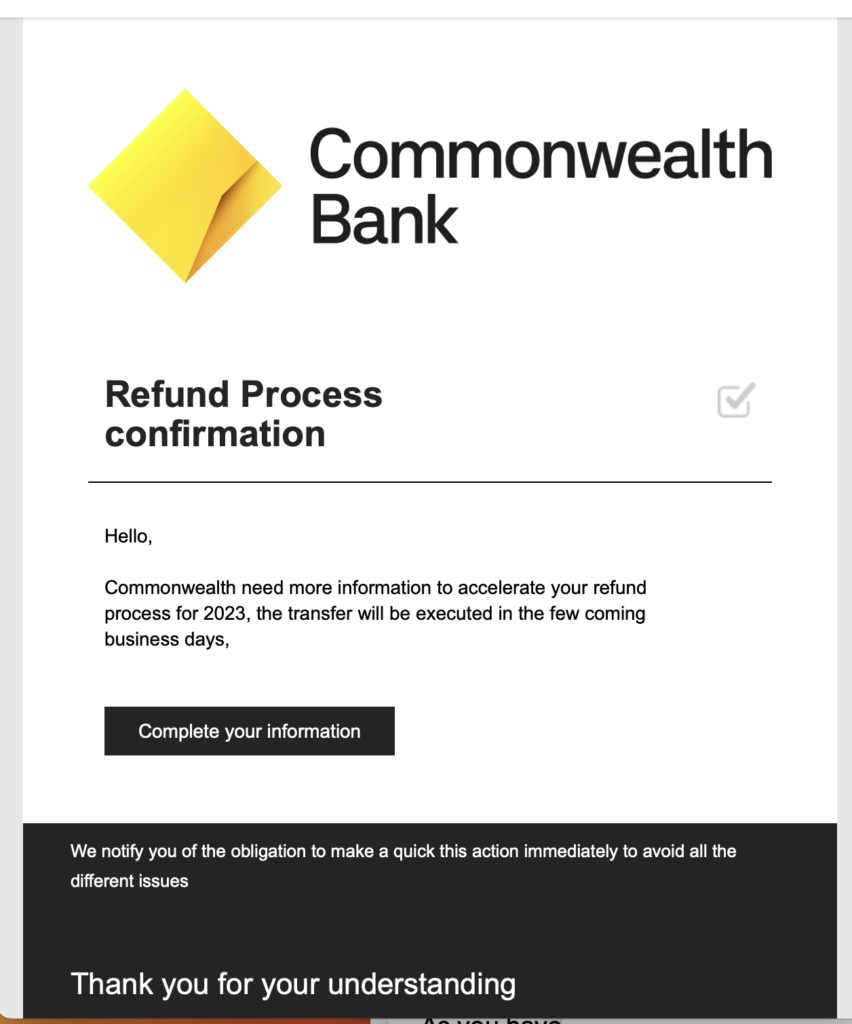 As always with suspicious emails, take a look at the reply to address, in this case the reply to address has no mention of Commonwealth Bank, and in fact the reply to address is a personal individual address, therefore it is a scammers address.

Bruce from Website Admin.
Below is the suspicious Reply-To addresses
---
the Little Black Book of Scams
This page is updated with the Australian version of LBBOS November 2023
04/11/23
This is the Australian version of Little Book of Scams. I have included this as our authority has mentioned it is an easier to look thru version than the NZ one shown below.
Click on the Picture to View the Book
Compiled by Bronwyn Groot, Netsafe 'scambassador' and NZ Anti-Fraud Award winner, the Little Black Book of Scams tells you almost everything you need to know about the most common scams targeting New Zealanders today. You can download a copy to read on your device or print it out to keep by the computer at home.
Click on the picture to view the Book
Compiled by Bronwyn Groot, Netsafe 'scambassador' and NZ Anti-Fraud Award winner, the Little Black Book of Scams tells you almost everything you need to know about the most common scams targeting New Zealanders today. You can download a copy to read on your device or print it out to keep by the computer at home.
---
You've Been Scammed By Nigel Latta
TVNZ 1 – now available at 'TV On Demand'
Nigel Latta wages war on rip-off merchants
Few days go by without New Zealand media outlets reporting how someone has been scammed out of their life savings. Whether it's a romantic scam, an investment one or a Nigerian prince looking for help to move his millions, scammers are preying on Kiwis like they never have before.
The country is in the middle of a scandemic and psychologist Nigel Latta wants Kiwis to wise up.
"We don't really have any idea of the level of money that's been lost by people because what happens most of the time is that people feel embarrassed and shamed if they get caught up in a scam," Latta says.
"And because people don't talk about it, we're all just way more vulnerable to being scammed."
The problem is so big, the banking ombudsman approached the film production company Ruckus Media with a proposal to make a documentary highlighting just how vulnerable Kiwis are to being ripped off.
The result is You've Been Scammed By Nigel Latta, a four-part series that looks at how criminals prey on human weaknesses – love, greed, fear and trust – to scam us out of our hard-earned cash.
Scams are nothing new. In 193AD a group of soldiers successfully sold the Roman Empire to the highest bidder. The big difference today is, thanks to the internet, scammers can now reach millions more people.
However, despite the prolific news stories, 90 per cent of Kiwis confidently believe it can't happen to them. In this series, psychologist Latta, known for series such as Beyond The Darklands, The Politically Incorrect Parenting Show and Nigel Latta Blows Stuff Up, reveals just how wrong they are.
"I've learned a lot about scammers, for sure," he says, adding his new knowledge has led to changes in his own lifestyle.
"In the past, I've always had the free virus protection stuff on my laptop because, you know, 'It's fine, never had anything go wrong'. Now I'm a paid subscriber to the good stuff. I've got it on the phone, got it on my laptop, got it everywhere.
You have to be really, really, really on your guard to not get scammed because there are the obvious ones and then there are the other ones."
You've Been Scammed By Nigel Latta looks at eight types of scams and the human weaknesses exploited by each one. These range from investment rip-offs like the Citibank scam now in the news to phishing, which is used in 92 per cent of all cyber attacks.
Latta says the production team made contact with several scammers while making the programme, including someone behind the Citibank scam in which several Kiwis have lost hundreds of thousands of dollars by investing in what, even after due diligence, seems like a legitimate investment.
"We ended up having some conversations with this man and he sounds very plausible, very believable and very convincing," Latta says. "We knew he was a scammer but in the middle of that conversation even we were starting to doubt ourselves."
Latta hopes the series will encourage Kiwis to become more scam savvy and take precautions to protect themselves.
"Some really good virus protection for your devices is part of it but the other part of it is that scammers do ultimately need us to do something," he says.
"Over and over and over, the thing experts were telling us was that one of the best ways that you can make yourself safe is if something looks kind of interesting or weird, don't use the numbers or the links provided in the email or whatever.
"Don't rely on emails and don't rely on texts and that kind of stuff – actually find the proper number of the proper place and ring and talk to an actual human."
Latta says scam artists wouldn't succeed if their targets didn't – albeit inadvertently – help them out.
"All these scams require us to do something," he says. "You've got to click on a link to give them some information, you have to send money or engage in a conversation. You actually have to do something.
"The idea that there is some shadowy hacker out there who's just hacking into your computer (is wrong). They can do that but, first, you have to download and open the file that gives them remote access."
He hopes the show will make people sit up and think.
"Hopefully, there'll be people watching the show that go, 'Well, that's interesting. So the person I've been speaking to who is in the US Army and sends me photographs where I can never see their face isn't legitimate and maybe I should start thinking and asking some questions about that'.
"It really is a lot about us upping our game and changing the things that we do and the information that we give out."
You've Been Scammed By Nigel Latta, TVNZ 1, Monday July 3.
---
25/05/23. Scam Link contribution from Mary 25/05/2023. – the Link leads to IRD type scams
---
Scam contribution from Bruce 17/05/2023
---
16/05/2023
Two Scams to look out for – watch the Videos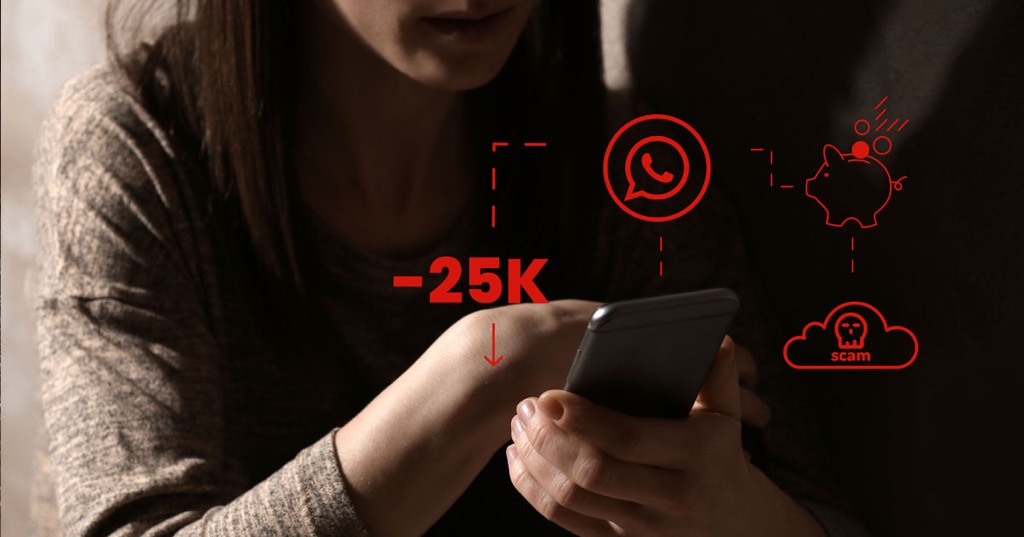 6/10/2022 NZ Listener had an interesting Article about Scams  – read it at your library – or click picture to read on PressReader
NZ Listener – Scams – September 5 2022
​Even the smartest people can be fooled by online fraud. So what do you need to look out for? In the September 5 2022 Listener, they have got plenty of expert advice on how to avoid the latest scams, and what needs to be done to curb their rampant growth.
---
SCAM ALERT. 20th May 2022
​
TSB bank has issued an alert concerning WhatsApp

We've seen a big spike this week in scammers using WhatsApp, a smartphone messaging app, to target unsuspecting Kiwis.

* If you have WhatsApp, or you've been asked to download it, please be vigilant. We are seeing scammers impersonate friends and whānau claiming to have lost a wallet or facing an unexpected bill. In some cases, scammers are pretending to be your bank.

* If you suspect someone might be impersonating a loved one, tell them you will call them back on a known phone number or ask them a personal question, like their date of birth, name of a sibling, or maiden name.

* If you think you have given out information to a scammer, please contact your bank immediately and change the passwords for any online accounts you think might be at risk.

Please share and have conversations with your whānau and friends to help ensure they are aware of these tactics often used by scammers.

Please remember, your bank will never contact you and ask for your online banking login details or full card information.
Stay safe.
---
Other Resources
Consumer Protection – provides good advice on what to do if you have been scammed, including links to several sites, including the following:
​CERT NZ – are experts in cyber security. See their website for tips on simple ways to improve your cyber safety.
Netsafe NZ – helps New Zealanders stay safe online, with expertise in online bullying, harassment and abuse under the Harmful Digital Communications Act and all types of scams.
NZ Police – an introduction to cybercrime and the internet
Banking Ombudsman – helps resolve and prevent banking problems, including scam-related issues
---